First UK 2021 cruise ready to go.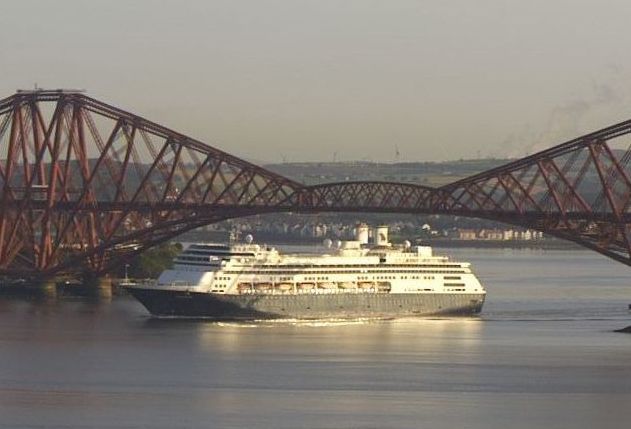 We have to start this final cruise issue of 2020 on a sombre note but knowing amazing rapidity that Covid-19 vaccines have been developed and mass produced. We are optimistic for the new year.
We must not be complacent and also be wary of media rushing out unpleasant eye-catching news as with the story of Royal Caribbean's Quantum of the Seas out of Singapore last week on a 'cruise to nowhere'.

It appears that an 83-year-old man on board caused a scare due to diarrhoea. He did not have the virus. Passengers were held for 16 hours in their cabins.

If all goes well, and the Foreign, Commonwealth and Development Office (FCDO) agree, Fred Olsen will become the first UK cruise operator to go to sea in 2021. The maiden voyage of Bolette (née Amsterdam) leaves Southampton Friday 5 March 2021 bound for Belfast, Lerwick and Kirkwall, with a seven-night itinerary.

Saga goes to sea 3 April 2021 with Spirit of Discovery, followed by the brand new Spirit of Adventure 4 May 2021, both from Southampton.

Saga has become the first cruise operator to be awarded new Covid-19 health assurance accreditation by Lloyd's Register, the maritime safety experts. The move is a crucial step ahead of the return of cruise operations spring next year in a Covid-secure environment.

Also in the UK, Cunard/P&O are clearly holding back on what the Government has to say but other Carnival Group companies are pushing ahead with the top of the market Seabourn Ovation offering a 12-day round-trip from Athens 19 April 2021.

In the Mediterranean sister companies AIDA and Costa have been operating a limited programme which continues over the holiday period and into the new year.

Covid-19 in most European mainland countries means that river cruising on the continent has stopped. However AMA, who did operate a small number of charters in September, tells BTN that as the only US-based operator with successful first-hand operating experience of the recommended enhanced health and safety protocols, they are ready to start cruising as soon as restrictions are lifted, hopefully at the end of March. AmaWaterways' 20 ships and crew are on standby to resume the European sailing season in France, Portugal and along the Rhine and Danube Rivers.

English Holiday Cruises are planning a full season of river cruise holidays in the Severn Vales planned from April 2021. All start and finish in the historic docks of Gloucester, England.

During the holiday period BTN's Twitter column on the home page will have a regular update. Visit or join @BTNewsupdate on TWITTER.


CRUISE TO NOWHERE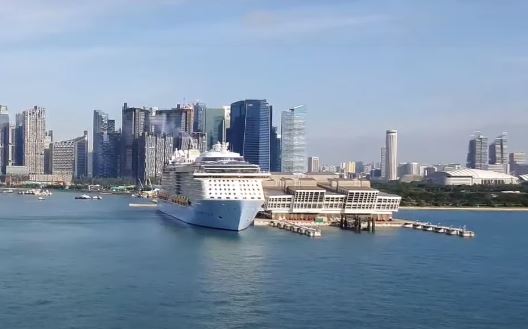 Although the inaugural Royal Caribbean's Quantum of the Seas "Cruise to Nowhere" did have its problems (as noted above) it may have set a template as cruise lines begin the return to normality.

Masteradept is a Cruise Critic member and was on the voyage reporting before the problems arose.

Aside from being good news for the hard-hit cruise industry, Royal Caribbean's first return to the seas in nearly nine months also provided a tantalizing glimpse at what the company's sailings may look like when the line returns to broader service next year.

Royal Caribbean instituted a bevy of new guidelines and policies for its return to Asian waters; it's also worth noting that Singapore is only reporting a handful of coronavirus cases, as opposed to the surging numbers in Europe and the United States.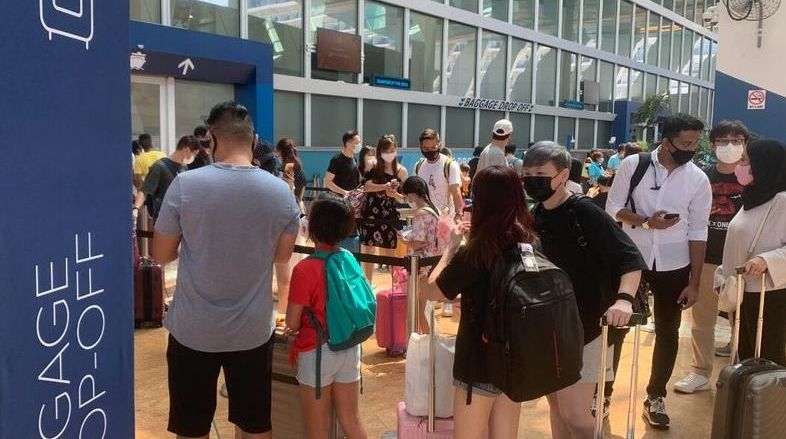 "The booking process is much the same as usual," he writes. "I noticed that Inside and Oceanview (no balcony) cabins were unavailable, and only Balcony and Suites could be booked.

"During the booking, various conditions were highlighted. For example, the cruise was only open to residents of Singapore (even as Singapore has opened to some countries such as Australia and New Zealand, visitors from there without residency will not be allowed on board). The requirement for a PCR test was also highlighted, as well as the offer from Royal Caribbean that the cost was included in the booking."

Masteradept notes that the Covid-19 PCR testing process was relatively painless, if uncomfortable. Royal Caribbean provided a personal reference number with directions on how to apply for testing online roughly two weeks prior to sailing. Results were available in less than 24 hours.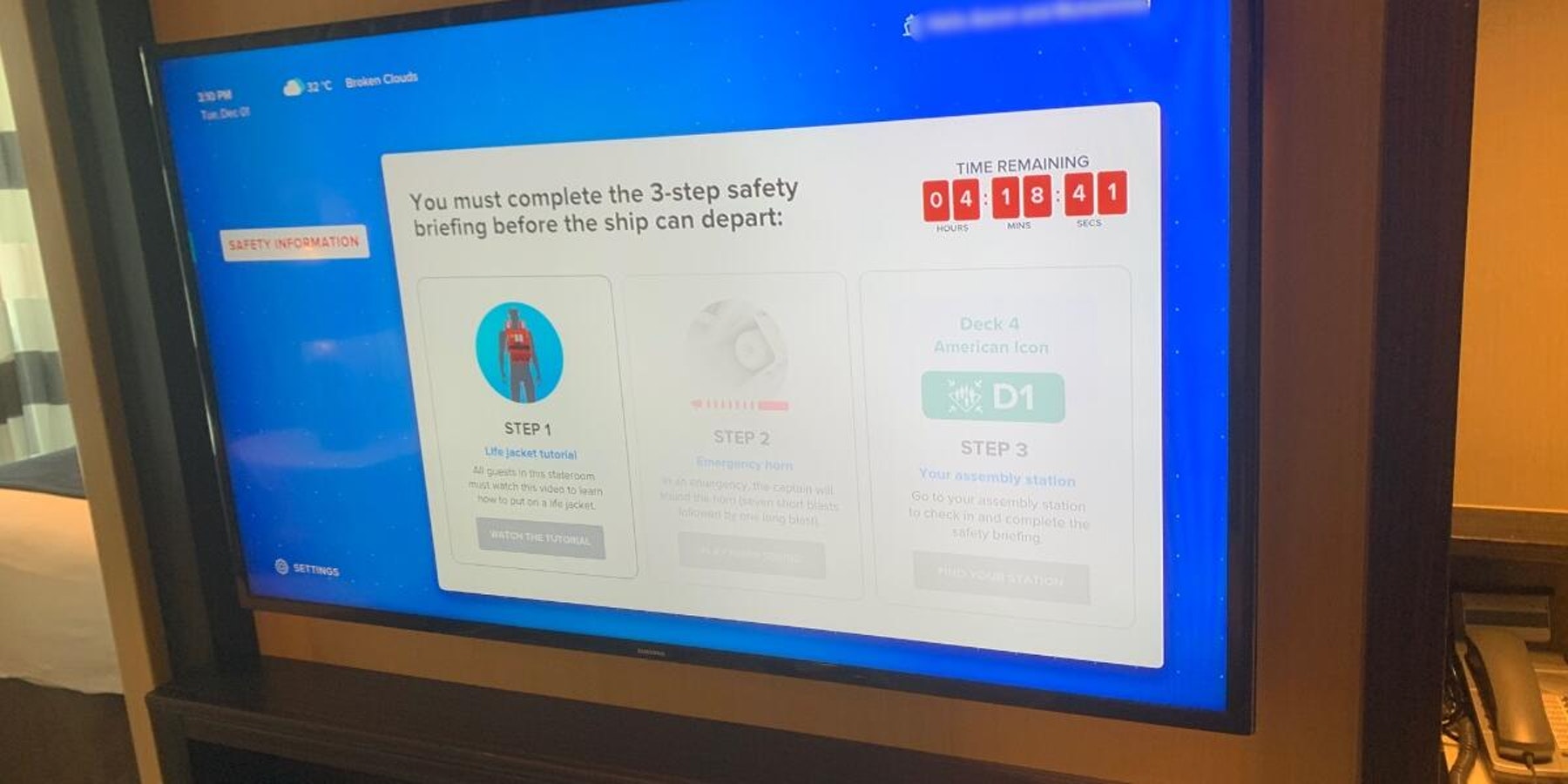 One day prior to sailing, the Royal Caribbean app prompted Masteradept to complete a medical questionnaire online.

"I got a notification to do that the morning of the cruise, and it looks like you just have to open up the app, and while you can watch the video and listen to the emergency signal audio, they didn't look compulsory," he writes. "Looks like we'll still have to at least report to our muster station though, just to check in."

A photograph of the in-room tv onboard Quantum of the Seas also prompts passengers to complete the new E-Muster drill prior to sailing and lists a countdown clock with time remaining.

The Windjammer Buffet is open, though staff serve the food. Masteradept says that physical menus are available upon request. "By default, they don't hand out physical menus, and there's a QR code to scan, but they do ask if you want a physical menu.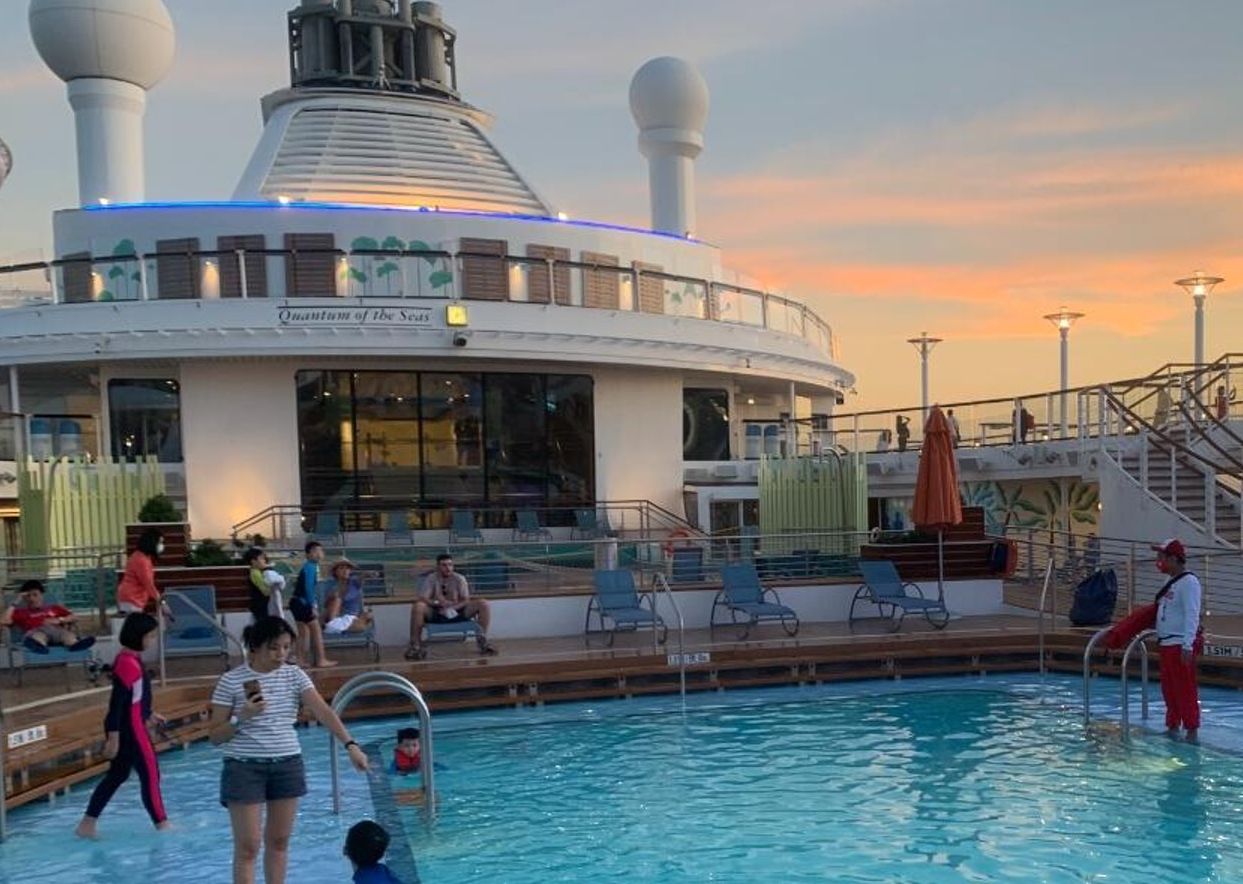 Royal Caribbean is providing masks, hand sanitizer, and contact tracing bracelets for all passengers onboard. The printed Cruise Compass daily programme was not placed in the room, but instead was available on the Royal Caribbean app or upon request from the Guest Services desk. Reservations are required for all onboard shows and programmed activities.
Whirlpools are limited to one group (your group) at a time. Royal Caribbean has even come up with clever signage to advertise this, called "The Whirlpool Rule." Signage around the vessel reminds passengers to practice social distancing, and to wear masks when not eating or drinking.

What is very clear is the advent of the smartphone and improved wi-fi technology. Had Covid-19 appeared even 20 years ago we would have been in an even bigger mess. The QR code has proved a saviour!

www.royalcaribbean.com/gbr/en/cruise-ships/quantum-of-the-seas

www.cruisecritic.co.uk