Friday 18 December is a date to put in your diary if you are interested in air travel and security.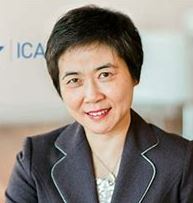 The world's most prominent aviation experts and senior security stakeholders will be presenting unique insights and thought-provoking commentary on an effective and sustainable security culture at the International Civil Aviation Organization (ICAO) Global Aviation Security Symposium 2020 (AVSEC2020).

This is a rare and FREE opportunity to access first-hand detail on leading best practices and experiences around the critical core business value: "Security is everyone's responsibility".

Register for this event
https://events.icao.int/login?returnurl=/event-details/registration?campaignid=f47991a4-ce42-ea11-80ec-001dd8b71c70

www.icao.int


THE SPEAKERS

Dr Fang LIU (Introduction)
Secretary General of ICAO. First appointed for a three-year term starting August 2015, and recently reappointed for a consecutive three-year term until July 2021.

Mr Mohamed Khalifa RAHMA (Chairman)
Appointed Director, Air Transport Bureau of ICAO on 5 May 2020.

Mr Sylvain LEFOYER (Moderator)
Deputy Director in charge of Aviation Security and Facilitation in the Air Transport Bureau of ICAO since 1 March 2017.


Ms Michelle Salgado Ferreira ARCÚRIO
From 2016 to March 2020 responsible for Aviation Security Brazilian Certification Process (airlines, airports, personnel and aviation security training organizations).

Ms Michèle CONINSX
Assistant Secretary-General and Executive Director of the United Nations Security Council Counter-Terrorism Committee Executive Directorate (CTED) since 2017.

Mr Stephen CREAMER
Director of the Air Navigation Bureau at ICAO, taking responsibility for the role in April 2015.

Mr Luis Felipe DE OLIVEIRA
Commenced role as Director General of Airports Council International (ACI) World on 1 June 2020.

Mr Henrik HOLOLEI
Economist by training and holds a Degree from TalTech (Tallinn Technical University). On October 2015 became Director-General for Mobility and Transport in the European Commission.

Dr Rannia LEONTARIDI, OBE, FRSA
Joined the United Kingdom's Department for Transport in 2020, to be the new Director for Aviation and the Director General Civil Aviation for the UK.

Mr Yves MABBE
Joined Cargolux International Airlines in 2015 as Corporate Security Director.

Mr Dwayne MACINTOSH
Served at all ranks of the fire service, rounding out last five years as the Fire Chief of Canada's Busiest Airport. In 2019, received Master's in Business from Western University and subsequently accepted the position as the Director, Corporate Safety and Security at Toronto Pearson Airport.

Mr David PEKOSKE
Confirmed by the US Senate as the Transportation Security Administration's (TSA) seventh administrator in August 2017.

Ms Anna SVEDBERG
Has been working with airport security at Swedavia airports since 2015.

Ms Karen URWIN
Currently Group Manager Operations for New Zealand Aviation Security Service.

Mr Aiden YEO
Joined the Ministry of Transport, Singapore, in 2013 as Assistant Director (Security Policy), taking on policy formulation relating to aviation and maritime security.